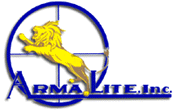 Click On Image To Go To Photo Gallery
MODEL
AR - 50
CALIBER
.50BMG
RECEIVER FORM
MODIFIED OCTAGONAL FORM, DRILLED AND SLOTTED FOR SCOPE RAIL
BOLT
TRIPLE FRONT LOCKING LUG
EXTRACTOR
SAKO TYPE
EJECTOR
SPRING LOADED PLUNGER, AUTOMATIC EJECTION
TRIGGER
SINGLE STAGE
BARREL
31" TAPERED, 8 GROOVE RH 1:15 INCH TWIST
MUZZLE DEVICE
CYLINDRICAL MULTIFLUTE RECOIL CHECK
STOCK
3 SECTION: EXTRUDED FOREND, MACHINED GRIP, HARRIS BIPOD, OPTIONAL
FRAME WITH M16 TYPE GRIP AND MACHINED REMOVABLE BUTTSTOCK
BUTTPLATE
PACHMAYR
FINISH
MAGNESIUM PHOSPHATED STEEL, HARD ANODIZED ALUMINUM
OVERALL LENGTH
59 INCHES
WEIGHT
41 POUNDS
COMPLETE WITH
OWNERS MANUAL, LIFETIME WARRANTY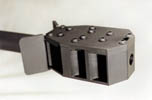 Armalite's newest rifle is intended to provide an economical, accurate rifle for shooters interested in the challenges of
long range shooting. The ArmaLite AR-50 is an innovative, single shot bolt action rifle bearing a unique octagonal receiver
bedded into an aluminum stock. It is equipped with a modified M16 type vertical pistol grip and a removable buttstock
for ease of transport.