Serbu
NEWS FLASH! The BFG-50 was recommended as the best buy over 3 other .50 BMG rifles by
Gun-Tests Magazine,in their Jan. 2003 issue! Click here for a link to Gun-Tests Review.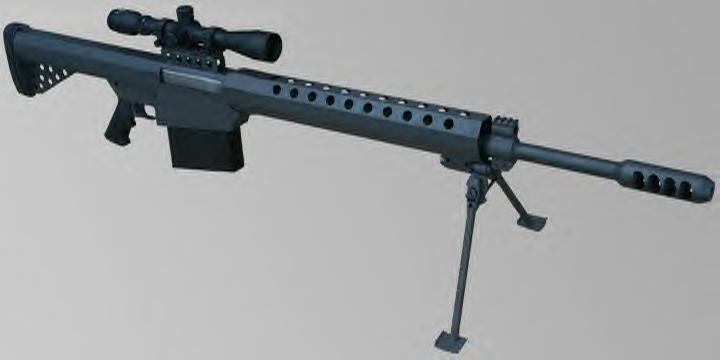 BFG-50 Specifications:

Caliber

.50 BMG

Action

Single-shot (or 5-round magazine-fed...coming soon) bolt action, sliding plate extractor, plunger ejector

Length

51.50 inches

Weight

22 pounds (without scope)

Barrel

Lothar Walther Match grade alloy steel, 1:15" twist, 29.5" long, custom taper

Muzzle brake

Harmonica type. New "Shark Brake" optional (shown above)

Stock

Extension of receiver tube, thick rubber butt pad

Fire control

AR-15 trigger and safety, custom hammer, spring-loaded firing pin. Average Trigger pull is 4.0 pounds

Scope mount

Screwed-on Picatinny rail

Bipod

Custom BFG-50 bipod available

Finish

Parkerized (manganese phosphate)
The BFG-50 is constructed using the most modern manufacturing methods (CNC machining, laser cutting, automated welding) and is made from the
highest quality MIL-spec alloy steels. The safety factors to which all the critical parts are designed are very high; more than double what one finds in
a typical production military rifle. While the price of this gun is incredibly reasonable, the low quality that one usually expects with a low price is not a fact
of life with the BFG-50. How can this be done? Low overhead, and a design that's optimized for manufacturability as well as performance and quality.
Plus a labor pool made up mostly of illegal immigrant children toiling in a hellish environment, subsisting on a diet of water, rice and cockroaches. The
BFG-50 is a perfect gun for the enthusiast who has always wanted to have a .50 BMG rifle, but doesn't want to spend $3,000+ to get one. The
BFG-50 is fully $1,000 cheaper than the nearest competition. And probably looks cooler, too.