Events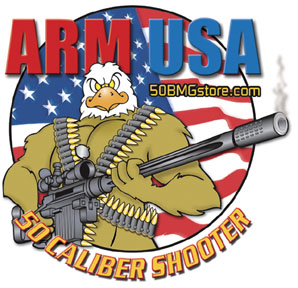 Join The Fun!!! Shoot Them All!!!
What better way to help you decide on a 50 Caliber rifle purchase than to shoot a wide variety of them? ARM USA is the only place you'll find
where you can sample 7 NOW 8 different 50 BMG rifles BEFORE you buy! And be sure to get your 50 before they're banned. To receive notice
of future shoots, send a blank email to 50shoot@armusa.com . Join us and you're sure to have a blast!
Next Shoot!!!
When:

10:00 AM, Sunday, late February - early March 2003

Where:

Includes:

Extras:

Exclusive 50 Caliber Shoot T-Shirt
Exclusive 50 Caliber Shoot Baseball Cap
Photos of 50 Caliber Shoot on CD Rom

Not to Mention:

Shooters will also receive special discounts on Ammo and Accessories throughout the store on Saturday September 22nd. Receive case price on any quantity of ammunition, including Federal American Eagle, Speer Lawman, Aguila Colibri or SSS Sniper Subsonic 22LR, Winchester, Remington, Corbon, Triton and MORE!!
Get 10% off on all shooting accessories such as Blackhawk or Eagle Tactical Gear, Shoot-n-C or NRA Official Targets, Ear & Eye Protection, Sentry Solutions and Otis Technologies Cleaning supplies, Bulk quantity Patches and MORE!!

How Much?
Keep Checking Back For Next .50 cal Shoot.
Click On Image To Enlarge